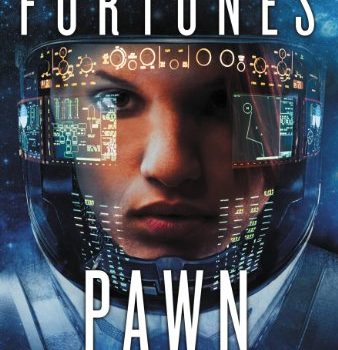 Category:blog,Book,Recommendation,Reviews
First book in Rachel Bach's Paradox series
Okay,  so up front I want to say that I'm giving the 3 star rating to the series as a whole, not the first book.
Lemme break this down: as I said on my Goodreads review for Fortune's Pawn that I've read a lot of books that claim to be Star Wars + Star Craft = Awesome.  All of these have sucked.  All of them.
Except for Fortune's Pawn. It is a mash up of Star Wars and Star Craft. There's a space marine in power armor. She's bad ass! She kicks, punches, stabs, or shoots her way out of every problem.  Devi is a fantastic "jarhead" protagonist.
Although she wouldn't use that term. In the book there's the SkullHead term that I think is supposed to replace that, but let's be honest here, Devi is a jarhead. As a soldier, I use that term for Devi out of respect. She's a great character.
There's a well built romance between her and the shy/cool/aloof ship's cool. He's got a dark secret that she wants to uncover!
Oh, and there's the Force. Although it's not called The Force, and it's not an all-mystical power out making decisions for everyone. But it's the Force. There's a space religion setup around it. No Jedi, thankfully, but yeah, it's The Force.
The second book in the series is really good too! There's a lot of twists about who you thought the bad guys and the good guys where. Lotsa ups and downs.  You find out the cool/aloof guy's dark secret (his name is Rupert).
Anyway, Rupert does a thing at the end of the first book. It's not cool. I'm not gonna spoil it, but it's part of the ending reversal. It's the sort of thing that ends relationships permanently.
In my opinion, it's an unforgivable thing that he does.
Anyway, of course Devi finds the truth. She punches, shoots, stabs, and kicks her way out of trouble to snatch victory from the literal jaws of defeat.  And the book ends with Devi and Rupert (the cool aloof dark secret guy) locked in a small ship together.
In Book 3, Heaven's Queen, the story takes a real crap turn. It's like Rachel had a "star crossed lovers" checklist and she was going down the list to check off each point.  Like Romance Novel style check list of isolating the pair in a nice setting, they clean up and walk around in shirts/no shirts. Then a jealous old flame shows up.
It was so forced and annoying that I started skimming pages to get past that stuff to the rest of the story- which was still really interesting.
The Devi/Rupert romance really really dragged the book down and really lowered my enjoyment of the series as a whole. I thought she should have shot Ruppert in the head, along with the other two responsible for the Bad Thing that happened at the end of book 1.
So. Overall, I give the series 3 stars.  The first book gets 5 stars! The second book gets 4 stars. And the third gets 1.
Do I still recommend the series?  Yeah. I still do. Other than that forced relationship with Devi & Rupert, it's a great story that I really enjoyed.